Main content starts here, tab to start navigating
More Than Just Buzzwords.
We don't take ourselves too seriously at Jax Fish House. Two things we do take seriously? The freshness and sustainability of our seafood. You know fresh fish when you see, smell, and taste it—and thanks to modern delivery technology, we bring in that freshy-fresh seven days a week.
Sustainability is a little more complicated. Not all commercial fisheries are created equal. That's why we work closely with our suppliers and science-based organizations to ensure that every single thing we serve is responsibly sourced. We consider the stocks of the species we source to prevent overfishing and we work with suppliers who harvest in ways that have minimal impacts on marine environments.
Our restaurants were the first in Colorado and Missouri to be certified by the Monterey Bay Aquarium Seafood Watch.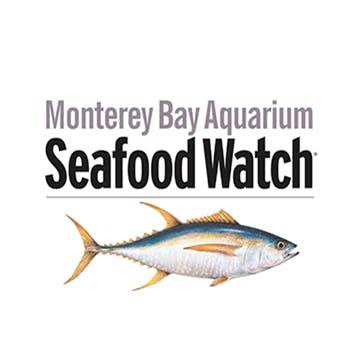 MBASW's ratings of fisheries and farms are the industry standard for making the best purchasing choices for a healthy ocean. Most of our menu items fall into the "Best Choice" category—meaning the fish population is well managed and caught or farmed responsibly. In some cases, such as with oysters, modern aquaculture techniques go beyond sustainability and actually restore and improve the environment they're cultivated in.
You may have heard that abstaining from eating fish is what's best for our oceans. But the truth is that pushing for legislative change and increased enforcement is the key to curbing irresponsible, profit-driven behavior in the fishing industry. Not only do we go the extra mile to source our products sustainably, our Culinary Director Sheila Lucero is actively involved in oceans advocacy work.
In addition to partnering with the MBASW, Chef Sheila is a member of its Blue Ribbon Task Force, working with other chefs from around the nation to educate on the state of our global fish stocks. Additionally, Chef She works with The Safina Center, Fish Choice, and the James Beard Foundation's Smart Catch program, and has lobbied members of Congress in Washington for several key environmental policies to protect our oceans.
We may be landlocked, but that doesn't mean we can't fight to maintain the health of our oceans. Join us so that we can all enjoy delicious seafood for generations to come.